Amazing NZ Escapes - ocean, sky, city, high-country, hotel, cruise, lodge, seclusion, luxury, private jet, helicopters
HCB Travel would love to hear from you and all of your colleagues and family and friends for all of your New Zealand travel requirements.
Below we have listed just some of our fantastic and exclusive packages that we can arrange for you.
Contact us at info@hcbtravel.co.nz or 03 963 7000 or come into our office at 245 Blenheim Road, Christchurch - to book all of your New Zealand travel requirements.
TRAVEL VOUCHERS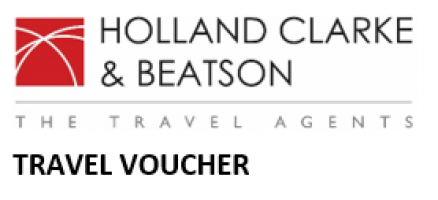 Buy a voucher from HCB Travel and give the gift of travel! You can buy a voucher for any amount, and we can arrange anything from a night away at a hotel in the city, to a full road-trip around New Zealand - or a cruise through Canada/Alaska!
We make it easy....and your gift will be well enjoyed.
The Rees Hotel, Luxury Apartments, & Lakeside Residences Queenstown
Quiet, private and sophisticated, The Rees Hotel Queenstown epitomises southern hospitality at its finest and an authentic New Zealand experience.

Let HCB Travel create your perfect itinerary of the South, staying at The Rees as your base and relaxing haven to return to.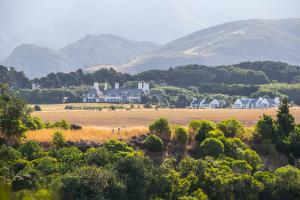 Enquire with us for a magnificent stay at Wharekauhau, and every booking** will receive twin -pack of Lighthouse Gin.
Indulgence - Blanket Bay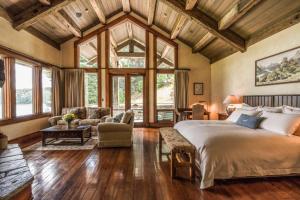 Blanket Bay
Fly or drive to Queenstown and indulge in luxury at this beautiful lodge

Stay 3, pay 2**
$5900.00 + GST for 3 nights in a luxurious Lodge Suite or Chalet Suite including breakfast, pre-dinner drinks and dinner as well as carte blanche use of sports facilities.
HCB Travel in partnership with Blanket Bay also gives you one complimentary lunch# for two people.

**Save $2200!!
Valid for stays until 12th December 2021

Enquire with us for special rates on the other room categories.

All subject to availability at the time of booking.

Contact Sarah, Jacquie or Charlotte at HCB Travel to arrange your luxurious stay at Blanket Bay
#complimentary lunch only valid for bookings made through HCB Travel
sarah@hcbtravel.co.nz / 03 963 7000

HCB can book your flights to and from Queenstown...and you could even consider taking a private jet or helicopter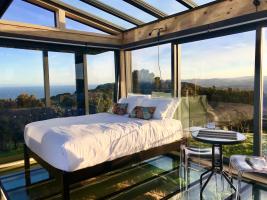 Exclusive HCB rate - $560.00 per night
Purepods dotted throughout Canterbury
Immerse yourself in the beautiful landscapes of New Zealand.
Add on a dinner & breakfast package from $149 for two people.

Self-drive or fly/drive into Christchurch – enquire with us to book our wholesale airfares.
Mt Cook - Hermitage Mt Cook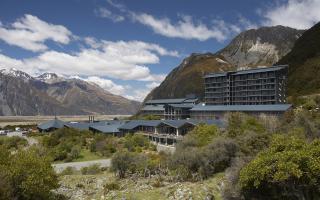 Hermitage Hotel Mt Cook
Immerse yourself in the midst of the Southern Alps
Stay in a Premium Plus room, and enjoy a 3 course dinner and breakfast for two plus more.

Self-drive or fly straight into Mt Cook – enquire with us to book our wholesale airfares.

Marlborough Sounds....tranquillity at Bay of Many Coves Resort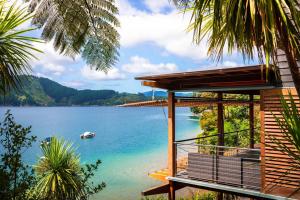 Bay of Many Coves
Accessible only by boat or helicopter – stay at this stunning eco marine haven....natural paradise.
Enquire with us for our latest packages to stay at this secluded resort.

Self-drive or fly into Blenheim/Picton or Wellington – enquire with us to book our wholesale airfares.

Add on private transfer or helicopter – enquire with us
Minaret Station - Wanaka high country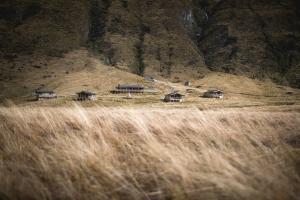 Minaret Station
Enjoy one of the world's most unique and luxury experiences.

Pricing on application

Private, luxury lodge accommodation set in a remote glacial valley surrounded by towering peaks, accessible only by helicopter.
Comfortable in every sense, with warm hospitality and world class cuisine, Minaret Station Alpine Lodge is truly an extraordinary location to escape the "real world".
With just four chalets, Minaret Station Alpine Lodge provides the opportunity to enjoy some of life's most precious elements; time, fresh air and open space, whilst creating life-long memories with friends and family.

Self drive or fly into Wanaka or Queenstown - enquire with us for wholesale airfares or private jet.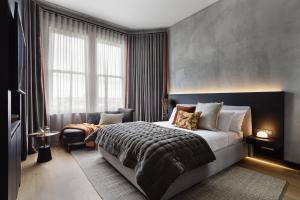 Hotel Fitzroy
Enjoy a relaxed stay in a restored landmark villa where indulgent treats like cocktails & hors d'oeuvres in the library, breakfast-in-bed and quiet relaxation are all part of the experience.

Fly into Auckland – enquire with us to book our wholesale airfares.
Te Anau - Fiordland Lodge
Fiordland Lodge

Set in a World Heritage Area, Fiordland Lodge in Te Anau, New Zealand offers the discerning traveller style, comfort and privacy. Fiordland Lodge is the perfect base from where to explore Milford Sound and Doubtful Sound, and the surrounding Fiordland National Park. Fiordland Lodge has one Executive Suite, four Deluxe Lodge Rooms, three Lodge Rooms, one 2 Bedroom Lodge Studio, two Log Cabins and a four bedroom Owners Residence/Lodge.

Self-drive, fly into Queenstown, or helicopter – enquire with us to book our wholesale airfares.
Rotorua Luxury - Treetops Lodge & Estate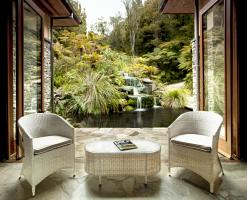 Treetops Lodge & Estate
from $1,195.00 per night
Luxury "Play, Unwind, Relax and Enjoy package" includes room upgrade, pre-dinner canapes, five course degustation dining and more.
*subject to availability

Fly into Rotorua – enquire with us to book our wholesale airfares.

Akaroa Rustic - Mill Cottage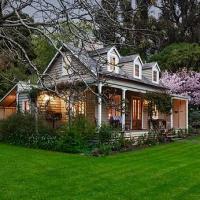 Mill Cottage
From $195 per night
Rustic romance, this 1850's cottage offers the quintessential Akaroa experience.
Includes breakfast

Akaroa is a scenic 1.5 hour drive from central Christchurch or Christchurch Airport.

Mill Cottage is nestled in a secluded and sheltered two-acre paradise, you'll wake up to the sweet sound of native birdsong.
Explore Mill Cottage's garden pathways and hidden nooks and crannies beside the stream that once powered Canterbury's first water-driven flour mill. Wander down to the village – an easy 10-minute walk – and discover the quaint shops, cafes and restaurants.
While you're there, drop by the Akaroa wharf to buy fresh fish or book a trip on one of the many harbour excursions.

Self-drive or fly/drive into Christchurch – enquire with us to book our wholesale airfares.
Waiheke Island - Marino Ridge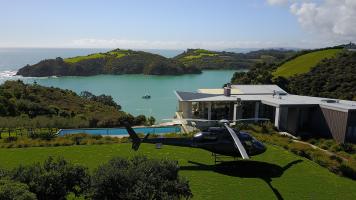 Enjoy the ever-changing panorama of ocean, bay, landscape, city and sky.
This Qualmark 5 Star Gold retreat lies above 3½ acres of private grounds and beach.
Elegant design and calm refined luxury define the comforts of Marino Ridge.

Price on application with HCB Travel

We can also book your helicopter or ferry from Auckland to Waiheke and return.

Private Jet to your next destination
Holland Clarke & Beatson have an exclusive partnership with GCH Jet Operations

Business or pleasure… style, security, speed, special occasion, exclusivity.

Enquire with us.