Current deals and offers
Take up one of the fantastic deals which are currently available - see flyers below to start planning your holiday.
At the bottom of this page you can click on the links to our wholesaler GO Holidays' website for ideas and current deals which we can book for you with GO Holidays.
Happy reading and we'll all look forward to talking to you soon about the holiday you desire.
See attached flyer for a base itinerary and speak to us to plan your amazing asia holiday.
2019 Boxing Day Test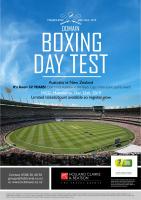 Don't miss this iconic sports event - 32 years since the last!
New Zealand vs Australia
Thursday 26 December 2019
Limited tickets, register now - groups@hcbtravel.co.nz / 03 963 7000 - speak to Justine.
Enter your best travel photos in our 2018 competition to be in the running for:
Travel vouchers AND to have your masterpiece printed in our beautiful 2019 calendar.

Click on the link to read all the details about our competition.

Enter today!!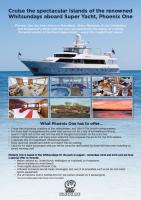 We are pleased to introduce to you a very special and quite unique boating experience out of Queensland Australia.

This is a very personal and intimate experience and the hospitality you will encounter is exceptional. The quality of your dining experiences throughout every day and into the evenings is superb.

Available for charters in Australia.

Fly from New Zealand to Proserpine and transfer to Airlie Beach where you meet Phoenix One.

See the attached flyer for further information, and enquire with Sarah Clarke.
Tasting Australia
1 entrance from $139.00 per person*
Sales from 31 Jan 2019 to 31 Mar 2019
Circle Island Tour with a difference!
from $149.00 per adult*
Sales from 09 Jul 2018 to 31 Mar 2019
with Unforgettable Houseboats, South Australia
from $235.00 per person (group share on 10 berth vessel)*
Sales from 22 Oct 2018 to 31 Mar 2019
New Year Sale! Bonus offers & F&B Credit!
5 nights from $1215.00 per person share twin
Sales from 07 Jan 2019 to 04 Apr 2019
Flying Air New Zealand
Retern flights from $2395.00 per person*
Sales from 17 Aug 2018 to 20 Jun 2019
FREE Halfboard special!
5 nights from $3699.00 per person share twin
Sales from 11 Feb 2019 to 31 Mar 2019
Two Bedroom Beachfront - EXCLUSIVE Family Offer!
5 nights from $5649.00 for 2 adults & 2 kids 12 years & under*
Sales from 21 Feb 2019 to 14 Apr 2019
Receive free return Helicopter flights*
7 nights from $6269.00 per person share twin*
Sales from 01 Jul 2018 to 31 Mar 2019
Flying Cathay Pacific
Return flights from $6339.00 per person*
Sales from 08 Mar 2019 to 31 Mar 2019
Bonus US$100 onboard credit per suite*
14 night cruise from AUD $8499.00 per person twin share*
Sales from 03 Mar 2019 to 31 Mar 2019